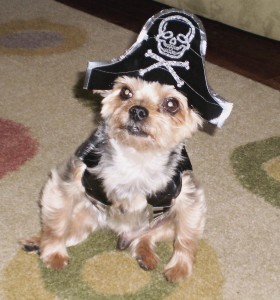 Make your last minute Halloween costume out of Duct Tape!!  Check out this adorable duct tape pirate costume for dogs!  My neighbor's sweet puppy Koko was the best duct tape model for this.  The complete set with pirate coat and jolly roger sparkly hat are the perfect costume for your furry little ones.
I love that duct tape can make just about anything.  It's perfect for Halloween.  Add details or customize your costume with duct tape accessories.
Check out Koko's killer pirate sword!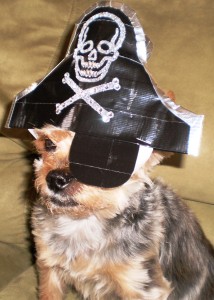 Argh me mateys!!
I'd love to hear from you!  Tell me how you plan to dress up your pet this Halloween.  If you need any last minute Halloween costume ideas, contact me here.  I'd love to brainstorm with you and come up with some easy duct tape crafts you can do yourself.  I'll even tell you how to make this cute duct tape pirate costume!
For all the latest in duct tape crafts from The Elegant Duck, sign up here.
[contact_form]