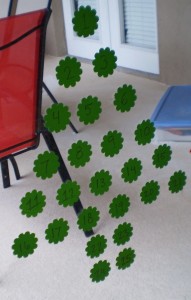 This was a fun duct tape holiday crafts that I tried to involve my two year olds with.  However, I would recommend this for slightly older kids.  My kids did great at just tapping the stickers, after I put them on the window.  But a fun Duct Tape take on an advent calendar, nonetheless.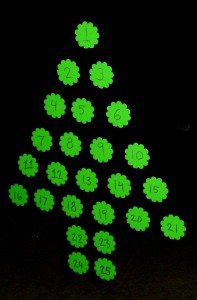 Using one duct tape scallop circle die cut in light green for each day, I added each number with a silver sharpie (I used red for the 25th).  I love the idea for older kids to stick on the number each day and draw a little picture next to the number or add stickers to decorate it.  Duct tape is highly durable and can easily being taken on and off any glass surface.  Great to reuse year after year.
Contact me here for a free duct tape star pattern and for more details on this duct tape holiday craft.
[contact_form]