The long awaited use #2 for Scalloped Circle Duct Tape Die Cuts is here.  This is a great way to give a special personalized gift for someone.  I love to journal and I love duct tape crafts.  I also love to give journals as a gift.  They come in all kinds of cool colors, designs, and styles.  The perfect gift for that perfect someone.  Now, with a simple sticky on duct tape die cut, in the color of your choice (zebra perhaps), your store bought journal gift can look like it was made just for the recipient.  Add a little rhinestone initial (you know I'm a fan of the bling) and it becomes a sparkly elegant gift to love everyday!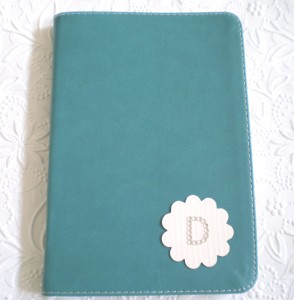 Stay tuned for the next 99 uses for my scalloped circle duct tape die cuts.  I'd love to hear your ideas for using scalloped die cuts and how we could turn it into an elegantly durable duct tape project!
Sign up here to be notified of new blog posts and all the latest from The Elegant Duck!
[contact_form]