Make this quick and easy duct tape picture frame to display your kids art work.  I took an inexpensive plastic display frame and added my favorite black and white damask duct tape around the edges.  I even made mitered corners to make it look like a real picture frame.  I love this instant makeover and a fun way to change out different display pieces.  I can put in a picture or show off the latest Jackson Pollock from my two year olds!
Here's to many more days of coloring outside of the lines!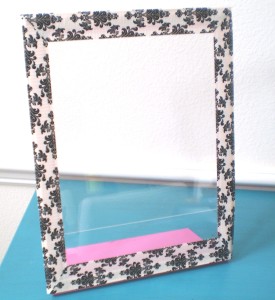 I'd love to hear from you.  Tell me your duct tape crafts ideas.
Sign up here for more details on this duct tape crafts project and all the latest from The Elegant Duck!
[contact_form]