The Final Four!  Here it is, as promised, the final duct tape tree in my Thanksgiving Centerpiece Village.  As always, fun and easy duct tape crafts to decorate for any occasion.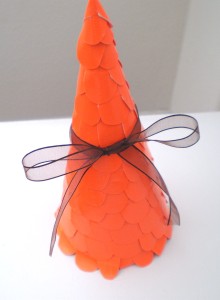 This one might be my favorite.  I cut strips of duct tape into rounded half-ovals and taped them to a paper cone.  It kind of looks like owl feathers.  Very autumny and woodlandy… I love it!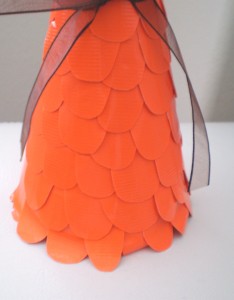 Have I made you sick of duct tape trees yet?  Hopefully not… stay tuned for my upcoming Christmas version of these duct tape holiday crafts.
Tell me your ideas for decorating for Christmas, I'd love to hear from you!
Contact me here for more details on this and other duct tape holiday crafts.
[contact_form]