Here's my 2nd Duct Tape Christmas Ornament in my journey of Twelve Days of Duct Tape Christmas Ornaments.  Though somewhat tedious, I love these kind of duct tape holiday crafts.  Using elongated almond shape slivers of duct tape, I created this fun shiny addition to a red and gold theme Christmas. Introducing my new snowflake duct tape die cut.  Easy to stick on anywhere, in any color.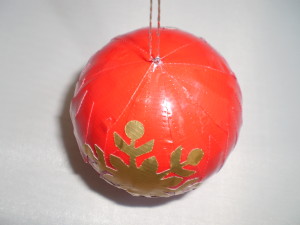 I love the poinsettia type design that forms when placing all the duct tape slivers around the top and bottom.
I'm excited to experiment with different colors and variations of this design.  Tell me your ideas here.  What are your favorite Christmas color combinations?  My new obsession is red and lime!!
Contact me here for more details and a make your own kit for this duct tape holiday crafts.
[contact_form]