Are you ready to get your pumpkin on??  I LOVE duct tape crafts and duct tape contests!  Here's a chance to get your creative Halloweeny juices flowing!  Stick or Treat is a contest from Duck Brand, the best duct tape around.
http://duckbrand.com/promotions/stick-or-treat
Enter your craziest DUCT TAPE JACK-O-LANTERN here and check out last year's winners too.  They're offering $1,000.00 cash prize for first place, $500.00 for second place, and $250.00 for third place. The contest opens September 23rd and ends October 31st.  Judging is based on originality, workmanship, use of color, and of course use of DUCT TAPE!
I definitely have some ideas of what to enter with my own Elegant Duck style.  I'll post them here!
Meanwhile, checkout my other Halloween inspired duct tape products!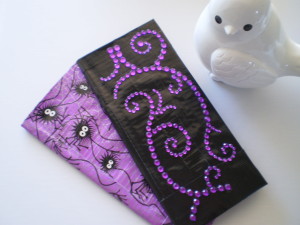 As always, contact me here for custom orders or to tell me about your fun Halloween DUCT TAPE crafts!  I'd love to hear from you!
[contact_form]