Another addition to your Thanksgiving table!  This fun and elegant gold duct tape holiday crafts tree is made from strips of my famous duct tape ruffle.  I loved the idea of bringing some more fall colors to the table.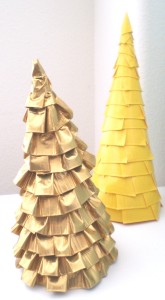 I love this combination with the yellow and gold trees.  Stay tuned for more fall trees for the Thanksgiving table.
Wouldn't it be fun to make a whole Christmas village of trees??  I've got some ideas in the works, but I'd love to hear from you.  What Christmas themed decorations are you planning this year?  What are your favorite Christmas color combinations?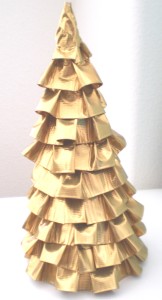 Contact me here for more details on this and other duct tape holiday crafts.
[contact_form]